We fish for Crappie, Walleye, Bream, Catfish
White Bass, and Hybrid Striper on
Lake Hamilton, Lake Ouachita,
Lake DeGray, and Lake Greeson
all near Hot Springs, Arkansas.
Trip Pictures to see some of what we are catching
Calendar, Rates and Reservations
Details of trips I offer
Gift Certificates
Recipes
To see "What's New" with
Family Fishing Trips Guide Service
CLICK HERE

(I highly advise you read all the above page links to be better informed about your future fishing trip.)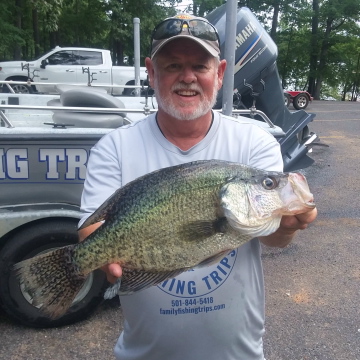 Capt Darryl Morris
501-844-5418 --- darryl@familyfishingtrips.com




We will fish from this 2009 Blue Wave 22ft Classic
powered by a 2011 Yamaha 200hp 4-stroke and
MinnKota Ultera trolling motor with iPilot.
She's fully equipped with two Garmin standard sonar units
and two Garmin Panoptics LiveScope sonar units
and all the crappie poles and casting rods you'll ever need.
She's custom built to fish 4 adults comfortably and up to 6 with children
She's wide and stable with room to move around.
That's why her name is "Fat Bottom Girl 2."
Crappie Fishing on "Exploring Arkansas - September 2016"

Casting and trolling for White Bass and Hybrid Striper

Kids catching Crappie

Catfishing on Lake Ouachita -- just one of many
Click here to view more videos
Fishing isn't the only reason to hire a fishing guide.
Observing wildlife, water foul and the majesty of mother nature's beauty top the list of things to do.

Bird Watching and Awesome Sunrises


Bald Eagles - Bobcats (very rare) - Deer


Wild Turkeys - Great American White Pelicans - God's Promise

Capt. Darryl "Big Daddy" Morris
GUARANTEED CATCH.
If we don't catch your dinner,
you get a BOGO coupon.
(Book one, Get one)
The next time you book a full-priced trip,
you get a second day for FREE
Guarantee valid only with full-priced trips and you follow my recommendation
Not valid in the months of July, August and September
(501) 844-5418
darryl@familyfishingtrips.com
---
Look at pictures of My Office - here


Crappie Fishing Pole-in-Hand or Hovering


Trolling Live Bait, Crankbaits and Spoons
Springtime -- Anytime
No desk, comfortable chair, great view

We start early




Active Duty Marine
1983-1988
No such thing as an ex- or former- Marine
I earned my Eagle, Globe and Anchor
and I will always be a Marine

Family Fishing Trips Guide Service
is Coast Guard approved for all Inland Waters
in the U.S. with Capt. Darryl Morris
Site designed and maintained by Darryl Morris.
Please email questions, suggestions or comments to darryl@familyfishingtrips.com